The statistics from MarketStats by ShowingTime confirms that buyer demand in Northern Virginia remains strong as inventory continues to be low. Even as mortgage interest stay around 6.5%, buyers are not discouraged. Here it the latest real estate market update May 2023.
Statistics and What it Means
Home values keep going up in Northern Virginia. The median sale price for a home in Northern Virginia is now $638,000, up from $619,000 last month. This is a 3% increase and a 1% decrease from this time last year.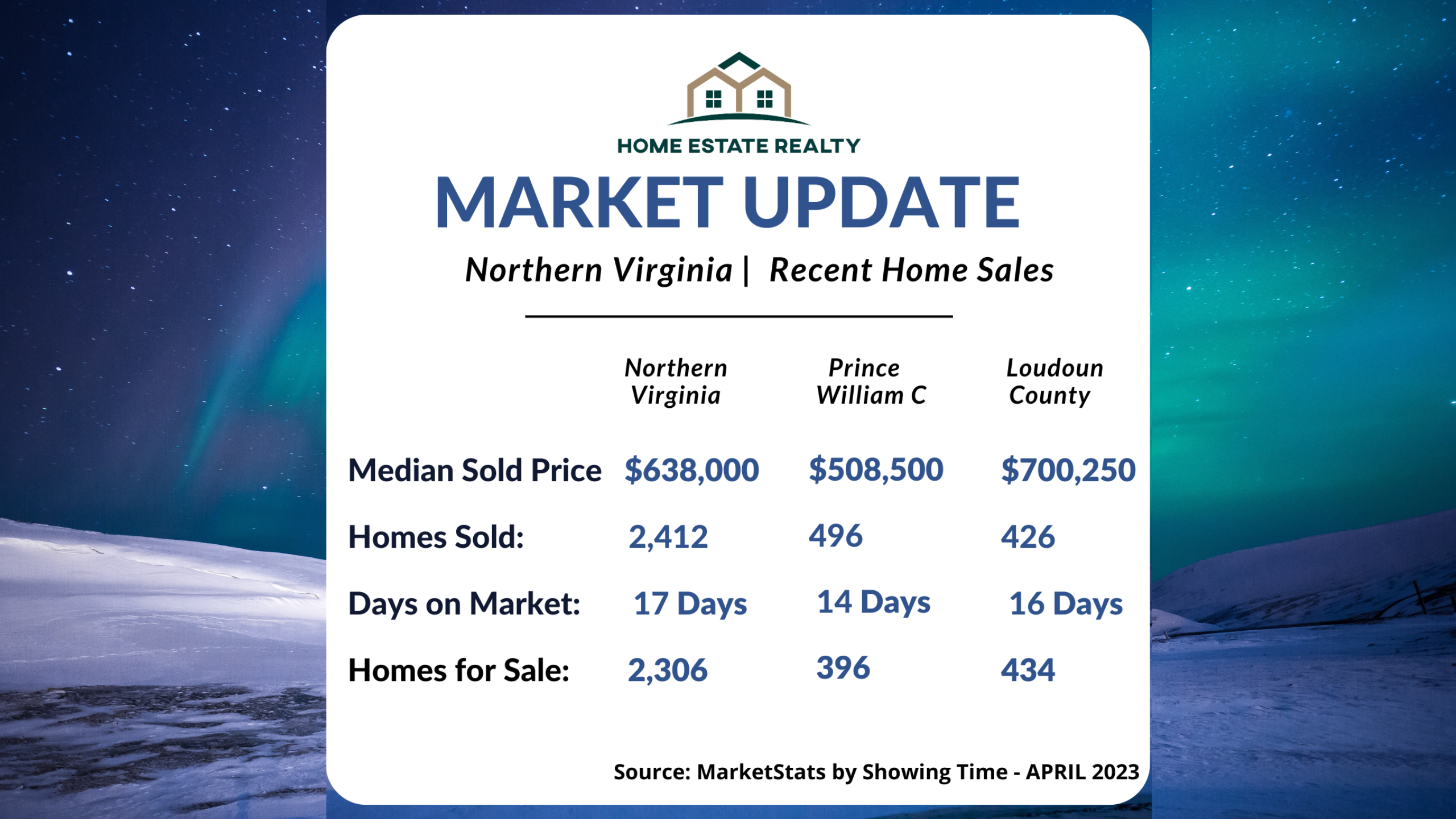 Inventory continues to be extremely low. At the end of April 2023, 2,412 homes were sold. This is up 4% from the previous month and yet down 34% from the previous year. Additionally, there were 2,727 homes coming fresh on the market. This was down 5% from the previous month and down 48% from the same time last year. There were much more homes up for sale last year. Still, buyers are having to compete with several others to get their offers accepted. Homeowners are enjoying multiple offers and getting their home under contract quickly.
In April, it took an average of 17 days for a home to go under contract. This is less than the previous month when it took 22 days and higher last year during a crazy market when it took when it took just 9 days to go under contract.
What Agents are Seeing
Most agents agree that the higher mortgage interest rates are no longer discouraging home buyers. Once a home is in good condition, they seem to fly off the shelf. Many are going under contract before they hit the market as Active, settle well over asking price, and with few inspections and contingencies. Condition of the home and location are two important factors when this happens. Lenders also comment that most buyers are only putting up to 5% down as home buyers are trying to keep a reserve of cash on hand.
Buyer Demand
In general, buyer demand in Northern Virginia is now "Steady", up a notch from "Slow" the previous month. This is according to Bright MLS Home Demand Index. The Bright MLS | T3 Home Demand Index measures and tracks consumer and real estate professional behavior related to shopping for real estate by looking at metrics such as views of homes online and in-person showings. Ratings are categorized into 5 score points: Limited (under 70 points), Slow (70-89), Steady (90-109), Moderate (110-129), and High demand (over 130).
The highest ranking areas in Northern Virginia are: HIGH DEMAND in Arlington (161); MODERATE DEMAND in Prince William (122), Alexandria (119), Falls Church (115), and Stafford (112).
Month's Supply
The month's supply is now at 0.96, similar to last month's measure of 1. This number shows how many months it will take to sell all the current homes now on the market. Most consider a balanced market, where buyers and sellers of homes are on the same playing field, to be about 3-6 months supply. It illustrates how low inventory is at this time. Many experts speculate that this will keep home value to remain steady in Northern Virginia in the coming months.
Mortgage Interest Rates
This is the new normal. The annual percentage rate on 30-year conventional mortgages hovers around 6.5%. This is 25 basis points higher from the previous week and also up 130 basis points from last year. Many experts want to believe rates will remain this way for a while and hopefully start going down. Still, most agree that we won't be seeing rates around 4% anytime soon. According to Joel Kan, vice president and deputy chief economist at Mortgage Bankers Association, "Both conventional and government home purchase applications increased last week. However, activity was still nearly 28% below last year's pace."
Advice to Sellers
Homeowners are enjoying a return to a seller's market. Many homes are experiencing multiple offers, less time to go under contract, and with less inspections and contingencies. If life circumstances require you to sell soon, this is the time to reach out us to discuss ways to get your home "show ready" and get an idea of your home's current market value. Even more important is to know your numbers, in terms of how much net you can expect after paying the costs of a home sale.
Advice to Buyers
For those whose circumstances making home buying more favorable than continuing to rent should not wait. Northern Virginia has a very strong real estate market that does not appear to be going away. This means that your investment is likely to increase in the long term. Most experts say to plan to live in your home at least 5 years to see the greatest financial benefits such as home equity and home valuation increases.
Bottom Line
Northern Virginia is still a great place to live and own a home. If you are thinking of selling and want to get an estimate of how much you would net after a home sale, please reach out to us. If you are a home buyer and want to be in the best position to have your offer accepted, let us work for you.
Questions/Concerns? Please contact us.
Also feel free to compare this update with last month's Market Update – April 2023.